---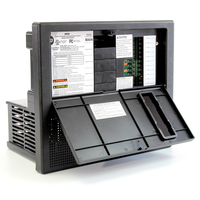 (Fully compatible with WF-8955AN, with next generation faceplate design)

The WF-8900 Series has revolutionized RV power centers with its lighter weight, decorative doors and superior features. The WF-8955 model provides 55 Amps and a clean, constant 13.6 VDC nominal output, for reliable operation of electronics and appliances. Automatic three-stage charging extends the life of your battery with output voltage modes of 13.2 VDC range "float" mode, 13.6 VDC range "absorption" mode, and a 14.4 VDC range "bulk" charge mode. The 8900 Series also maintains peace and quiet, as the cooling fan runs only when needed.
FCC Class B compliance for every power center model means that the units are designed not to cause interference with televisions, radios, or other signals. Electronic current limiting automatically shuts down the power during overload or short-circuit conditions, protecting the life of your power center and electrical system.
The 8900 Series models provide AC and DC distribution with innovative features. They can accommodate a 30 Amp main AC circuit breaker and up to five branch circuits. Eleven-branch DC circuits are available with LED lights for each DC circuit to illuminate and identify open circuits.
Part Numbers: WF-8955PEC (Brown), WF-8955PEC-B (Black)
| | |
| --- | --- |
| Output Power | 940 W |
| Input Voltage/Hz | 105-130 VAC, 60 Hz |
| Weight | 7 lbs. |
| Replacement Board (if applicable) | WF-8955-MBA (Main Board Assembly, 55 Amps) |
| Converter Type | Three-Stage Converter Charger |
| Output Current | 55 A |
| Voltage Output | 13.2 – 14.4V DC Range |
| Absorption Mode (Nominal Voltage) | 13.6V DC (nominal voltage) |
| Bulk Mode (Quick Charging Voltage) | 14.4V DC (quick charging voltage) |
| Float Mode (Trickle Charge Voltage) | 13.2V DC (trickle charge voltage) |
| Over Current | Yes |
| Over Temperature | Yes |
| Over Voltage | Yes |
| Reverse Polarity | Yes |
| Cooling System | Yes |
| Dimensions | 12 3/16″ x 10 7/8″ x 7 1/4″ |
| AC Circuits (twin breakers) | 1 main and 5 branch circuits |
| DC Circuits (Quantity) | (2 30A max), 11 (9 20A max) |
| Case Material | Plastic |
| Case Color | Black, Brown |
| Certifications | FCC |